Alan has written a
couple
of
posts
recently that indicate that barley prices, which have caused inflation throughout the brewing industry over the last couple of years, are beginning to turn around, on the heels of good harvests. Is it anything more than coincidence that oil prices have also begun to fall over the last month?
Oil Prices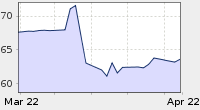 In addition to good harvests, is the air
coming out of a commodity bubble
?